What is Leave?
You need not work on all work-days to earn your salary. Leaves are off-work days in addition to the holidays that employees are entitled to, as per the leave policy.
A hundred years ago, globally, employees were not entitled to any paid leaves. But today, all countries, except the USA, stipulate employers to offer paid leaves and paid holidays to employees. Even in the US, 99% of organizations voluntarily provide the benefit of paid leaves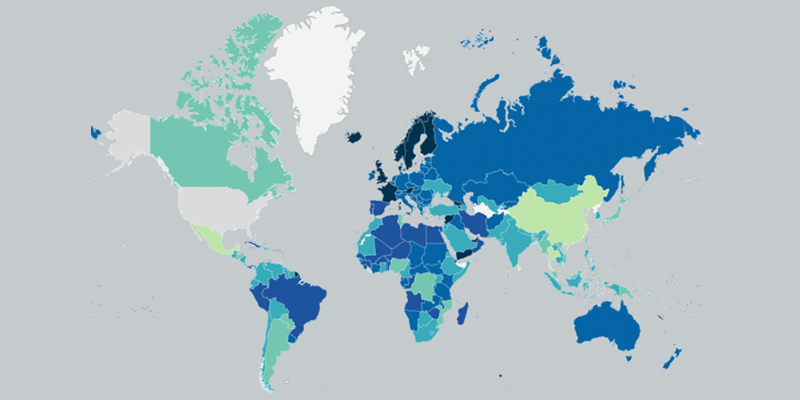 Source: Wikipedia
Leave, or paid-time-off (PTO), is one of the most preferred benefits after healthcare coverage.
There are several leave types an employee is entitled to in a year. State government laws guide the different kinds of leaves and the quantum of leaves to grant per year. Some of these leave types are earned, and employees can carry the balances to the next year. Other leave types lapse at the end of the year. For example, here is a snapshot of leave rules for Delhi State.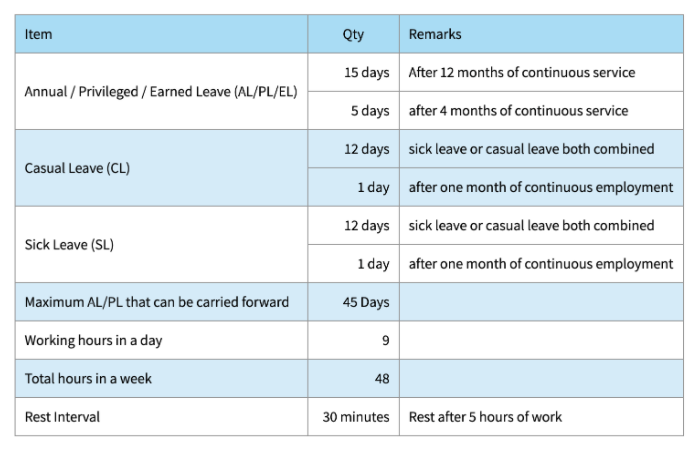 In case of dire need, after exhausting their leave balances, employees can also take leave against loss of pay (LOP). This is also called "Leave Without Pay (LWP)."
What is the Need For Leave Management?
Leave management is a crucial activity of benefits administration and is needed for many reasons:
Record keeping
Business operations & planning
Reporting and analytics
Prevent revenue leakage

Statutory Compliance Need
Apart from providing paid leaves to employees, employers need to maintain proper records of the paid leave granted to employees from a compliance angle. For example, in Karnataka, Form F or Form 14 registers need to be held. The same is the case in most Indian states.
Record Keeping
Even if there is no compliance requirement, it is highly desirable to track employees' paid leaves. It's impossible to enforce and implement leave policies without accurate record keeping.
Since paid leave is an employee benefit, employees need transparency and detailed information about the leave policy, entitlements, leave balances, and detailed transaction history. Lapses in these areas lead to unhappy employees, mistrust, and erosion of employer brand.
The need for record-keeping becomes acutely evident during the full and final settlement of employees. Lack of proper records or a policy for encashing accumulated earned leave is a recipe for disputes and disgruntled ex-employees.

Business Operations & Planning
In big teams, on any given day, someone is on leave. But work gets hampered if most of the team members take leave at the same time.
When approving leaves, a manager needs to consider the roster for that day and decide to approve or reject. If you don't know team members on leave for a given day, you end up with bad decisions or delays.
Yet again, this is an area where a sound leave management system can be helpful.
Reporting & Analytics
Leave reporting is a common need for both management and compliances. Unless there is a proper leave system in place, this can become a dreadful experience every month.
Tracking absenteeism and detecting leave-taking patterns indicative of disengaged employees are activities a proactive HR professional should handle.
But accurate and up to date information is necessary for us to derive insights.

Leave Management Challenges
Without proper leave management processes, we encounter a whole host of undesirable situations. If you encounter any of these problematic scenarios, it signals the need for a better practice.
A team member is not at work as they are on leave, but the manager is not aware of this.
The HR admin extended the vacation without prior approval from the manager.
Customer is unhappy with delayed service because the Support Engineers went on unplanned leave.
People don't inform the HR that they are on leave, so leaving accounting is inaccurate.
Employees have taken leave far more than their eligibility.
The leave policies of the organization are not uniformly applied to all employees.
Employee Leave Balance is not correct, leading to disputes and employee dissatisfaction.
Approvals are delayed, leading to anxiety, inconvenience, and cost impact for the employee.
An employee needs to follow up multiple times with the HR admin or manager for leave queries or approvals.
All these problems can be boiled down to these broad challenges:
Low productivity
Poor customer service
Lack of proper /holiday planning
Low employee trust and motivation
Low employee satisfaction
Unauthorized absenteeism
Revenue leakage

What is Leave Management?
Leave management is the administration of employee leave as per company leave policy not only for statutory compliance but also for better employee engagement, productivity, and employer branding. There are three broad areas of leave management:
Designing leave policies
Implementing and enforcing leave policies
Routine leave administration work
Leave Policies

In many small businesses, there are no written leave policies. Without documented leave policies, it's hard to enforce the policies and a root cause for all the problematic scenarios we discussed above.
Designing good leave policies requires knowledge of statutory rules relevant to your industry and location. While compliance is a concern, a leave policy also has to balance business interests, employee needs, and employee engagement.
Employees are entitled to many types of leaves. Therefore, there need to be different policies for different leave types. Policies also can vary for different levels or categories of employment.
Designing a leave policy requires several inputs:
The weekend policy of the company (e.g., 5-day week)
Leave rules for each leave type.
Public holiday calendar for the company
Leave Types

Several types of leaves are either mandated by the government or voluntarily provided by the company. Here is a list of some of the most common leave types:
Earned Leave (EL) or Privileged Leave (PL)
Casual Leave (CL)
Sick Leave (SL)
Maternity Leave
Compensatory Off Leave
Bereavement Leave
Leave Without Pay (LWP)
Weekend Policy
A weekend policy defines the weekly off days for a company. Again, this also needs to be compliant with the local laws. Companies may work on a 5-day or a 6-day week. Some companies have alternate Saturdays off.
Leave Rules
The heart of a leave policy is the set of rules that govern the policy. The rules are either set by the government or decided by the company. These rules cover aspects like eligibility, quantum of leave to be granted each year, the frequency of grants (monthly or annual), carry forwarding rules, availing, approval clubbing, covering, process and so on.
In greytHR leave management software, 50+ leave rules are available per leave type. This provides the flexibility to configure leave policy of any kind of organization without any compromises.
Holiday Calendar
Apart from paid leave, companies also have to declare 8 to 14 general holidays for their employees. The various state governments release the official list of public holidays at the end of each year. Companies then have to declare their public holiday calendar aligned with the government list.
While employees take individual leave as per their need and convenience, the entire company shuts down on public holidays. Companies also declare a list of restricted or optional holidays for employees to claim to avoid the business's complete closure.
Routine Admin Activities in Leave Management
Defining leave policies may be a one-time affair but enforcing them is a full-time HR activity. Here is a list of all the things an admin needs to handle as part of their leave administration responsibilities:
Leave Accounting
Granting Of Leaves (periodicity, pro-rating, advances, square-off)
Handling Employee Queries
Monthly Payroll Advice
MIS Reporting
Year-End Activities
Leave Accounting
An easy way to understand leave accounting is to compare an employee's leave account with a bank account. A bank savings account deals with money, and a leave account deals with leave balances.
While a bank account has a single bank balance, a leave account needs to keep track of leave balances for different types of leaves like Earned Leave, Sick Leave, etc.
Like a bank account, the leave balance goes up when leave is earned or granted periodically as per the leave policy. The leave balance goes down when an employee avails a leave.
Various leave transactions are possible that either increase the leave balance or decrease it:
Grant (+)
Avail (-)
Encash (-)
Lapse (-)
An HR admin's key responsibility is to diligently keep track of all the leave transactions for each employee. It is also a regulatory requirement.
Along with the leave transactions, the admin must track the net leave balance for each leave type. The leave balances must tally with the individual leave transactions.
While many leave types have annual or monthly grants, some types of leaves are discretionary. There is no leave balance for such leave types, and employees are eligible to take these leaves during certain conditions.
The Leave Year
Leave balances are tracked on a yearly basis. Some companies have their leave year as the calendar year, and some use the financial year (e.g., April to March). Many leave transactions happen in the context of a leave year.
Granting Of Leaves
As per statutory laws, employees are entitled to a specific quantum of leaves for Earned Leave, Sick Leave, etc., every year.
The leave allowances are granted lump sum for the whole year or every month. Most companies prefer the monthly option since it simplifies final settlement work when employees exit the company.
On the flip side, when you grant leaves monthly, an employee may need to leave more than their current balance but well within their annual entitlement. In such scenarios, employers might allow overdraft and let employees run a negative balance.
Year-End Activities
At the end of the leave year, the leave balances are carried to the next year. Again, there are government rules around this topic. There is, however, a cap of maximum leave balance that can be carried forward.
So what happens to the leave that cannot be carried forward to the next year? It is encashed or lapses depending on the leave policy of your organization.
Not all leave can be carried forward. Some leave types like Casual Leave and Sick Leave lapse each year.
Apart from closing the accounts for the year and juggling with leave balances, the HR admin needs to prepare the next year's holiday list.
Employee Help Desk
Like with salaries or any other employee benefit, employees will require information, guidance, or transactional support to manage their leaves. They also will have queries related to the leave policy or their leave balances.
Like in any support function, accurate accounting and responsive service are essential. Otherwise, this is a significant source of employee dissatisfaction, mistrust, and loss of productivity.
Monthly LOP Advice
There are situations when an employee has exhausted all their balance but requires to take leave. In such cases, there is an option for employees to avail Leave Without Pay.
Factories and other organizations that operate on strict work-timings penalize employees for late-coming or unauthorized absence. One type of penalty is either a leave deduction or a LOP leave transaction.
In larger companies where the Finance team manages payroll, the HR administrator needs to provide LOP deduction advice on time to avoid payroll processing delays.
MIS Reporting
As an excellent account-keeping practice and from a management control perspective, the HR administrator needs to prepare monthly MIS reports related to the leave balances and leave transactions. Here are some reports that are prepared by the administrator:
Leave Summary Report
Leave Transaction Report For The Month
Detailed Leave Transaction Report For The Month
Negative Leave Balance
Leave Encashment Report
Leave Balances As On A Day
Annual Leave Report
These reports are usually statements for either a single employee or for all employees. Apart from this, analytical reports can also help identify leave-taking patterns or absenteeism.
Apart from standard reports, there is always a need for ad-hoc reports as and when required.
For professional leave-accounting and record-keeping, a sound information system is essential.
Using spreadsheets like Microsoft Excel or Google Sheets is the simplest way to do this. However, to reduce the HR administrator's effort and truly automate the entire process, you need purpose-built leave administration software tools.
We have two categories of software tools for two distinct user groups.

Leave administration software automates all the different activities that are handled by an HR administrator. It covers leave policy setup, rules engine, leave-accounting, tracking leave transactions, year-end book closures, and much more.
Admin tools come in various flavors like desktop software, web-based software, and cloud-based software. The solutions are available at different price points ranging from free to high-priced offerings.
Employee Self-Service (ESS) Leave Portal
A leave portal for employees is either a web-based or mobile app meant for employees and their managers. With an employee portal, employees get up to do information about their leave balances and leave transactions. It further provides leave process automation with the added benefit of automatic policy enforcement.
A sound leave management system can help solve the many challenges in leave management and make life easy for the HR manager. The company gains the following benefits:
Smooth business operations
Time savings for the HR administrator, employee, and the manager
Uniform implementation of policy
Accurate leave accounting
Cost reduction
Transparency and higher employee satisfaction
Better employer brand