Ways to make it easier for your HR department in this remote working situation
While the benefits of remote working have long been acknowledged, it is only in 2020 during the COVID-19 lockdown that businesses worldwide shifted to this model entirely. In this remote working situation, the HR's role has become all the more critical. They carry the vital responsibility to keep teams aligned, and maintain the same levels of productivity as would be the case in person. Here are some best practices which HR teams can manage a remote workforce, and also collaborate better as a team.
Catch up every day to stay in the know
When managing remote teams, daily catch-ups are crucial. HR should prioritize weekly calls among themselves where updates are shared, and the way forward is discussed. It is also a good idea to have daily check-ins to ensure that HR executives have everything they need and have a common platform to discuss any feedback or grievances.
Streamline recurring HR chores and never forget another task
A sudden shift to virtual operations can be overwhelming for HR professionals, since a lot of their tasks involve in-person interaction and coordination. Facing this challenge from the front as a strategic function while performing the critical HR duties requires numerous backend tasks to be accomplished on time and with accuracy. Automated Task and checklists can streamline all the recurring HR tasks and standardize the critical processes of onboarding, exit, pre payroll, post payroll etc. It is an excellent feature to track each task and set reminders to ensure timeliness and accuracy.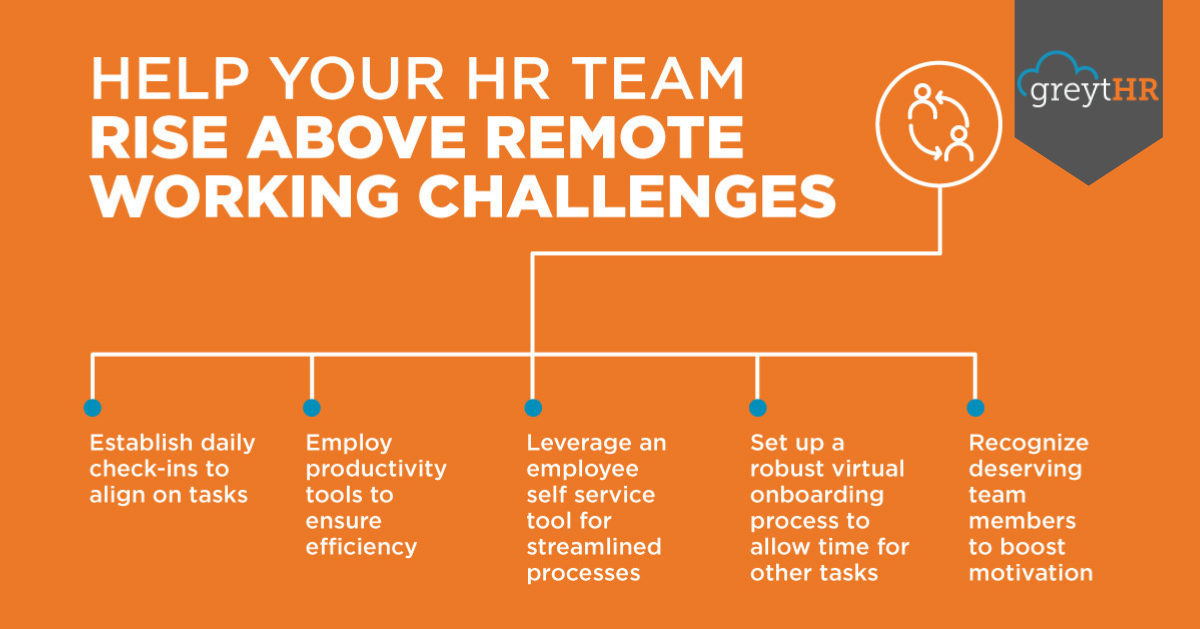 Empower employees with Employee Self Service Portal, make your life easier
An important aspect of managing remote teams is incorporating employee self-service when it comes to HR functions. Employee Self service portals are easy to integrate, are mobile-friendly and give employees control over a wide variety of functions such as uploading personal documents, accessing policies, checking payroll status, or raising queries. With ESS (Employee Self Service Portal) in place, the HR team's manual effort is considerably reduced, allowing them to work and collaborate easily. They can also pull up complete records of employee activity whenever needed.
Opt for virtual onboarding and make the most of your time
The pandemic has made virtual onboarding unavoidable, as companies across the board begin recruiting again. The good news is though, this can be of huge help to HR departments in smaller organizations. Such an onboarding solution should be seamlessly integrated with payroll and off-boarding software, among others, freeing HR from tasks such as regular paperwork and verifications. They can instead focus on overall employee engagement and evolving remote work protocols.
Recognize deserving team members for a shot of motivation
HR managers should make it a point to acknowledge employee contributions just as they would in person -- that is a given. However, it is important for HR team leaders to also acknowledge their own team members. Whether through an email shoutout, an update on the centralized HR platform or on a virtual meeting with the team, managers should point out individual contributors and celebrate their achievements to boost morale within the team.
Remote HR management for SMEs calls for a judicious mix of the right HR cloud software and consistent effort from the HR team. By implementing these best practices, managing remote teams will become both easier and more enjoyable.
Visit our website to explore HR automation tools that could boost your organization's communication and productivity.
Takeaway
HR has played a critical role in managing remote teams under these current challenges. It is therefore critical to ensure both collaboration and motivation within the team that is holding organizations together in these unprecedented times!