Checklist of HR basics for small businesses that will create a happier work environment
When setting up a small business, it is essential to craft an HR strategy that keeps the team happy and motivated. Particularly in the initial stages, there is often a lot of daily stress and the role of HR in a startup company gets overlooked in favor of product development and business strategy. Here, we provide a checklist of HR basics for small businesses that will create a happier work environment and improve overall team productivity.
Continuous legal compliance
HR laws may change at any time, and several important alterations are likely to occur in the aftermath of COVID. It is crucial that small businesses are fully in compliance with employment laws, tax laws, and any other relevant legislation at all times. By migrating to a cloud-based HR management software, the team can get automatic updates on alterations to the law and thus stay abreast without extra effort.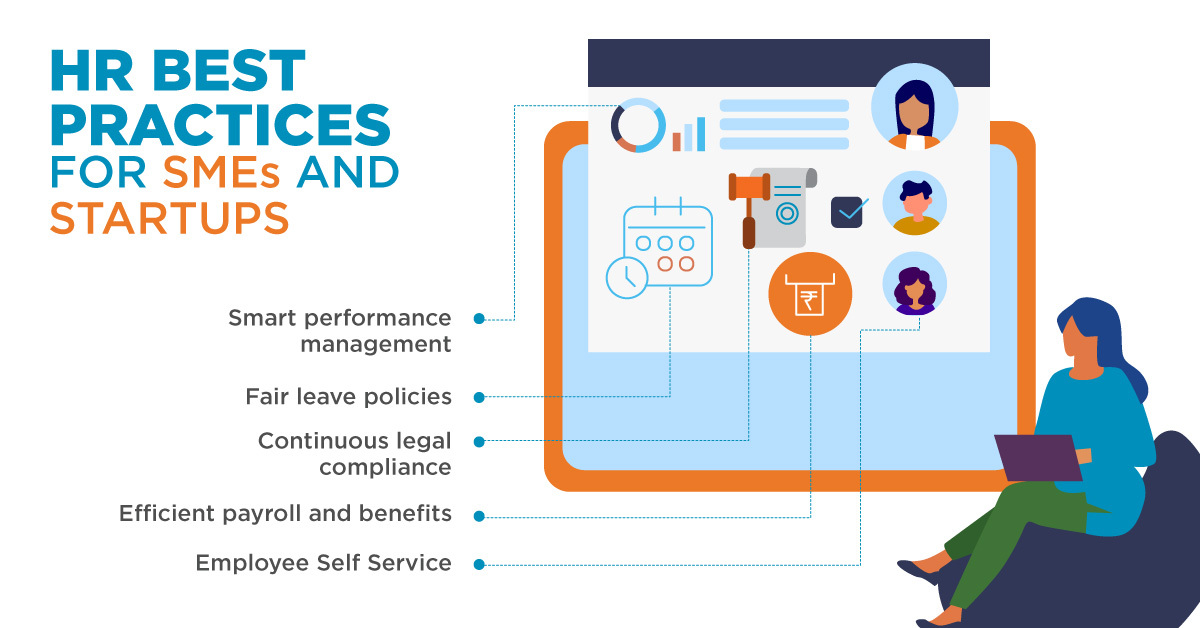 Efficient payroll and benefits 
Paying employees in a timely fashion is one of the prerequisites to earning their respect. With a payroll management system in place, salaries get disbursed on time in an error-free manner, and relevant data can be referred to whenever needed. Another important aspect in this regard is employee benefits. To put it simply, a benefits package should not be one-size-fits-all. By understanding your employees better, you can create packages tailored to their needs and preferences. For instance, those with young children or elderly family members to look after at home might prefer more paid time off as a benefit, while this may not be the case for those living on their own. The package should also include affordable health insurance and generous provident fund plans. 
Fair leave policies
One of the HR basics for small businesses is allowing adequate leave to its team members, including weekends, national/cultural holidays, and flexible hours. Employees should also have the flexibility to request their own leave through an online portal rather than approaching multiple people with emails. Incorporating an Employee Self Service portal will be of immense help here. 
Smart performance management
HR should prioritise having a clear performance pathway for their employees with mutually agreed-upon goals and regular feedback on how well they are doing. There should also be a system of recognition for the star performers. This is an ideal tactic to increase employee morale and engagement. It is also a good way to identify the team members who need to improve in certain areas — allowing the HR department to plan relevant training programs.
Employee Self Service
Giving employees autonomy over their own documents and daily affairs shows them that the organization trusts them, and also makes operations more convenient. By incorporating an automated Employee Self Service portal, HR can give employees full control over their personal details and admin-related tasks, such as updating their address proof or entering their attendance. While this ensures optimized operations, it also has another essential benefit — enabling ease of communication by allowing teams to reach out to HR directly for any queries.
In short, there are several HR basics for small businesses that need to be kept in mind by the executive team to create the best possible work environment. Having the right technology in place can be a great help with this.
Drop by the greytHR website, and pick from several HR automation solutions that can take your SME's operations up a notch.
Key takeaway: The role of HR in a startup company is a crucial one — to keep employees motivated and loyal through the challenges of setting up a new business. Having a small business HR compliance checklist handy can help with setting up robust HR practices.