HRMS, HRIS & HCM – What are their key differentiators?

A vast array of HR management software is available in the market today. Hence, it has become extremely confusing for businesses to identify the right one. Understanding what these technologies are and how they can help is the most crucial step toward finding the best fit.
One significant factor that results in the above-mentioned dilemma could be the lack of standard or defined rules for configuring an HR system. The configuration largely depends on what a company needs. For example, some companies would have outsourced their talent acquisition or payroll functions entirely but need others like data management, leave and attendance, record management, etc. They might choose to call this system an HRMS or an HRIS.
HRMS, HRIS & HCM: What Do they Mean?
The terms like HRMS (human resource management system), HRIS (human resources information management) and HCM (human capital management) are quite loosely used in the industry, and hence spell a lot of confusion. Since there is no carved-in-the-stone definition, the same can vary from vendor to vendor.
What is HRIS?
The narrowest among the three, HRIS is about managing and processing data related to employees and HR policies. It collates all the data in one place, so it is easy for HR to do their analysis and generate relevant reports. A standalone HRIS is ideal for smaller businesses.
What is HCM?
Employees are a company's vital assets or human capital. Therefore, a system that manages employees/their experiences, and optimizes their potential, is usually called the Human Capital Management system. It's usually used for handling more strategic functions and not the regular administrative tasks.
What is HRMS?
In addition to everything in HRIS and HCM, an HRMS offers time & labour management (TLM) and payroll processing. In other words, an HRMS (HR management system) is the broadest among all the three. It's suitable for all types of companies, irrespective of their size. HR, as a function, has a series of tasks and procedures to be performed. Different modules handle these different tasks or sets of tasks. In this post, we have segregated the modules and also briefly explained all of them.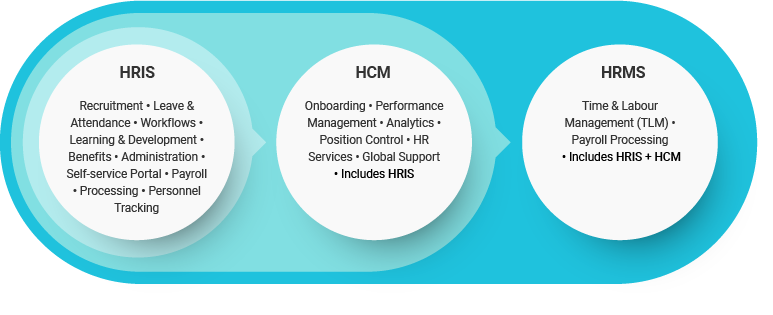 Key Modules, Explained
Time & Labour Management (TLM)
Records the exact number of working hours with punch-in and punch-out timings, tracks task-related timelines and enables quick approvals for optimising employee productivity.
Payroll Processing
Gathers employee information, calculates deductions & payout, processes direct deposits to employee accounts and automatically updates payroll records.
Recruitment
Allows HR to post JDs and candidates to review and post their resumes. It also includes an interview scheduler up to the hiring stage.
Leave & Attendance
Performs regular tracking of attendance, data on LOP/reversal of LOP to payroll, workflow for leave application, approvals, updation of leave records, quota management, leave encashment and more.
Workflows
Configures action items for different stakeholders to review and approve/reject different types of applications submitted by employees.
Learning & Development
Captures specific L&D needs of employees for enhancing skill sets, and tracks mandatory training/counselling/emotional support programs.
Benefits Administration
Enables HR to define and manage benefits programs while employees can stay updated. The right benefits help attract and retain the right employees.
Employee Self-service
An ESS portal offers employees anywhere, anytime access to their official information. This ensures better transparency, engagement, and higher productivity.
Payroll Processing
Creates a system where employee salaries are computed, disbursed, accounted and reported in a timely & accurate manner. Also manages statutory compliance by linking the HR system to government portals.
Personnel Tracking
Also called employee tracking, personnel tracking helps HR keep track of an employee's work location, activities and performance. The system also has an updated record of the relevant personal details of all employees.
Onboarding
Expedites the employee onboarding process with digital data collection and verification while minimizing paperwork and errors.
Performance Management
Provides a system for setting up and tracking short-term/long-term employee goals, outstanding achievements, recognition, promotions, salary changes, feedback, surveys, opinions and more.
Analytics
Configures the database and IT infrastructure to collect, analyze and store disparate data. Also generates reports related to headcount, data validation, salary costs, audit schedules and reconciliation, among others.
Position Control
Tracks information and enables budgeting and planning based on positions rather than employees. The objective is to ensure that the right people are placed in the right positions.
HR Services
Speeds up HR tasks by providing easy access to policies, procedures, company/government rules, FAQs, employee queries, chats, tax support, employee letters, record management and reminders.
Global Support
Offers support in multiple languages for customers across locations. Also has a built-in feature to display monetary values and process transactions in the local currency.
Wrapping Up
We hope this article helps you get an understanding of HRMS, HRIS and HCM, and what to expect from these technologies.