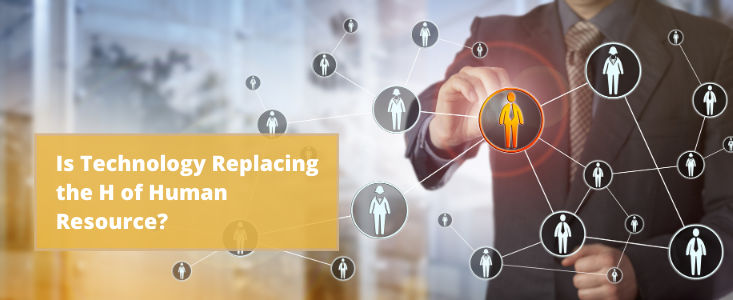 Can technology replace the Human element of Human Resource Management?
Since the dawn of the Industrial era, Human Resources Management has evolved from just being a recruitment department to a highly specialized strategic function. Technology has simplified the laborious operational tasks of HR professionals and gave them room to focus on more meaningful HR activities.
This evolution has happened in phases which can be broadly classified into four major stages.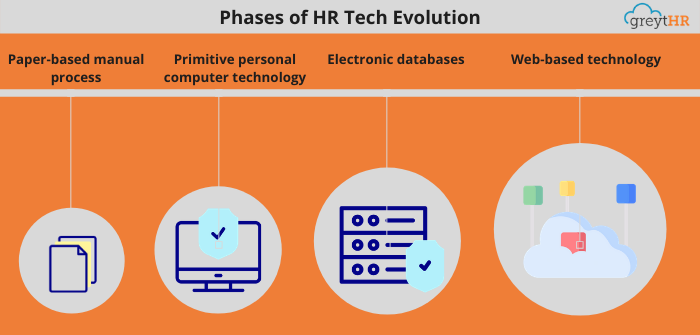 Today, the technology is about eliminating the time consuming and repetitive manual tasks that slows down the HR operations. Further, quick and easy access to accurate and real-time information through multiple channels makes it more efficient while increasing productivity. 
What could have been a backbreaking manual process is now transforming into a leaner, smarter and efficient operation with the introduction of new-gen technology. 
Myth Vs Reality
While organizations are gradually embracing technology for business enhancement, there have been many assumptions around
Whether these systems will ultimately replace employees?

Will the human touch be irrelevant now with robots taking over administration fully? 

With this severe economic uncertainty and employment crisis looming large, does it augur well for organizations to introduce such measures?
Let us deep dive to find answers to these questions
It is absolutely a misplaced judgement to assume that robotics or similar technology will ultimately replace humans. It merely takes over voluminous, manual and mundane tasks that employees mechanically perform. SaaS HR has to identify tasks that require a high amount of manual effort for much lesser output and automate it.
Let us find out how HR tech can simplify tasks at various stages
Take an example of hiring data to be uploaded in an HR system from several hundreds of resumes received for various open positions. The robotic program will identify and select keywords like experience, skill sets, salary, location, etc. from these resumes and submit a list of short-listed candidates for HR to choose from. The time saved will provide opportunities to HR on strategic thinking or provide quality time for human interactions.  
▪️ ▪️ ▪️
Once a candidate is shortlisted, the stressful process of documentation and filling up piles of forms can be exhausting for both HR and the new recruit. An automated onboarding system can simplify this process and make it error free and efficient. With such automation there is more scope for human-to-human interaction resulting in pleasant employee experience.
▪️ ▪️ ▪️
One of the time-drains in HR department is shift scheduling and attendance tracking. A software can help businesses schedule multiple shift rotations and track employee attendance without any manual effort. With an application taking care of this mundane tasks it allows HR professionals focus work hours on strategic functions with improved productivity.
▪️ ▪️ ▪️
Payroll is another complex function that can keep HR Professional awake for nights with complex calculations in multiple spreadsheets. A payroll management software can be of tremendous benefit especially to small businesses who outsource it as they do not have internal resource to manage the process.
Hence, technology is leveraged to help business perform more efficiently and not replace the 'Human' aspect of Human Resource. Technology solutions can take the strenuous tasks off the plate of an HR professional but cannot replace people in the workplace.
We would like to know your opinion on this. Please let us know what you think by leaving your comments below.