People Analytics is not just a buzz word anymore.

HR has drastically transformed from just being a back-office operation to a complete strategic function. Today, HR plays an equally critical role in driving organizations' strategic objectives as any other department. The digital transformation in HR has seamlessly integrated technology with human elements to make it more efficient and data-driven. With this highly sophisticated digital technology, HR provides valuable insights to the management to make essential business decisions.

The business environment is continually evolving at an extraordinary pace, and the need for HR departments to take improved people's decisions becomes crucial. There is undoubtedly no dearth of data with the use of digital tools, but merely storing the data meets no ends. The data must be interrogated well to gather meaningful insights to identify problems and make the required intervention and forecast growth based on facts and figures.
Understanding People Analytics

People Analytics is commonly referred to as HR Analytics or Talent Analytics. It is a strategic study focused towards understanding the challenges, processes, roles and prospects using statistical and data interpretation techniques. With People Analytics, it is not only easier to assess the right talent, but it is extremely relevant in the entire employee life cycle including performance management and retention too. However, People Analytics does not restrict itself to improving HR processes; it empowers organizations to create better organizational structure, increase overall productivity, and achieve business goals. The data collected from the existing HR tools are organized and represented in easily consumable charts and graphs. These provide actionable insight to the management to take data-backed decisions for sustainable business growth.
The process of People Analytics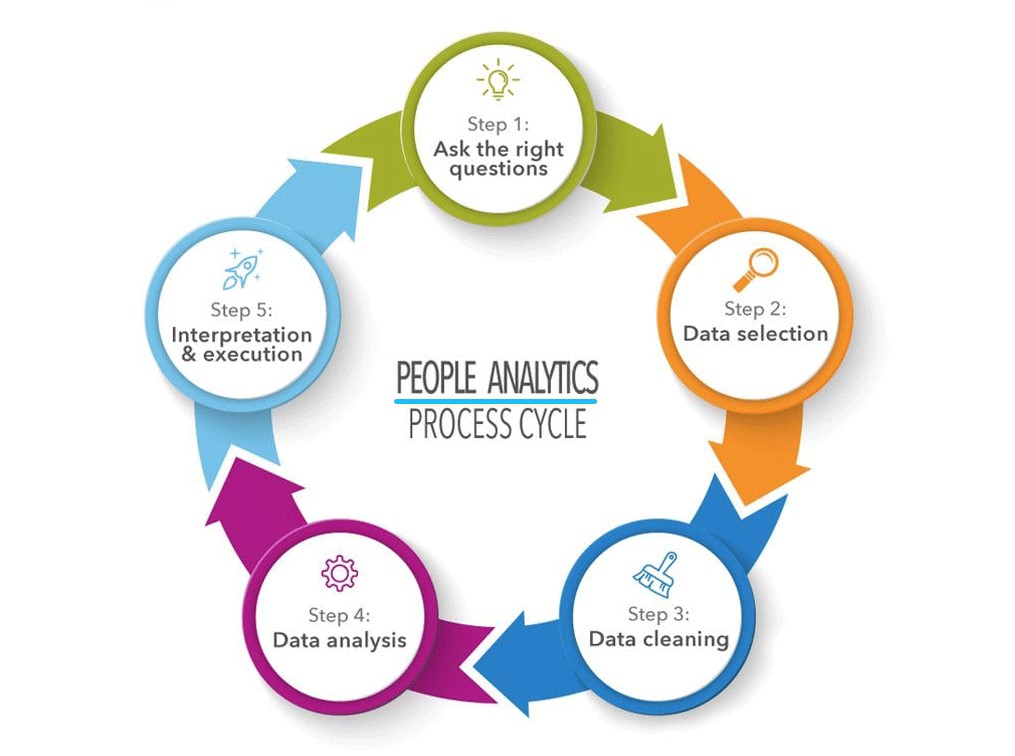 Image credit-AIHR Analytics

Companies today who believe in cutting-edge technology do not depend on biases and whims when it comes to people-decisions. Predictive analytics helps companies understand the granular aspects of –
Why the attrition has suddenly spiked up?
What is making the most tenured employees quit?
Which management practice was received well across the organization? Etc.
People Analytics- The game changer

There are instances where organizations have used People Analytics to analyze the number of resignations and retirement rates per year to determine the number of new recruitment and skill sets that would help them drive the organizational goal.

According to a study conducted by Deliotte, over 70% of companies now integrate data into their decision-making process by investing in people analytics. It is no more a "nice to have" and "enterprise phenomenon." People analytics is finding its way to smaller and medium-sized companies who look for deep insights to analyze and improve their workforce.

While most of the companies have digitized their HR functions, like attendance, leave, onboarding, HR Project Management, help desk, etc. it has become easier to implement People Analytics. A massive variety of data feeds into the system from different functions, resulting in decisions with far-reaching impact if appropriately analyzed.

The first step towards People Analytics is to define the objective. Even before we start exploring how to do it, we must find an answer to why we are doing it? And what are our exact goals? Analyzing the data will undeniably give us insights, but it would not yield the best result without a clear objective for People Analytics.

If you find this interesting and would like to read more about People analytics, here are a few articles for you.

Better People Analytics
The Future is now: The changing role of HR