Introducing the greytHR-Tally JV Integration: One-Click Payroll JV Posting to Tally

Tally is India's most popular accounting and ERP software and powers most businesses. And greytHR is India's most popular HRMS, payroll and workforce management software on the cloud.
You already knew this, but here's the good news. We are delighted to announce a seamless integration between greytHR and Tally for automatically posting various payroll journal vouchers (JV) every month!
The greytHR-Tally JV Integration brings you a bunch of benefits:
Enjoy one-click payroll JV entry after an easy, one-time setup
Save several hours on payroll JV entry each month
Minimize manual errors by eliminating spreadsheets and ad-hoc communication
Enjoy 100% security against data leaks with direct posting from greytHR to Tally
How Does It Work?
Without this integration, the payroll team needs to generate the payroll JV report from greytHR, then pass it on to the accounts team. The latter, in turn, manually enters this data into Tally. This process quickly gets complex and manual entry increases multi-fold, especially in larger organizations with a number of payroll components/cost centers.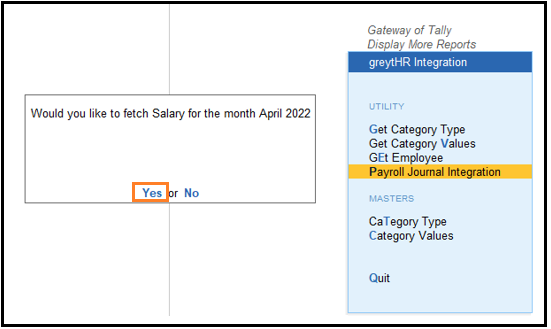 Fig 1: One-Click Fetching of Payroll JV for Entry into Tally
Now, the greytHR-Tally JV Integration automates this process. Using the greytHR add-on for Tally, with a single click, you fetch the payroll JV from greytHR and post it to Tally, as shown above. It's as simple as that.
Let's Get Started!
If you're a greytHR customer, simply raise a support ticket to enable this feature for your organization.
Check out our How-To Video and FAQ Section to explore this integration further.
Not a greytHR user? Discover how 20,000+ businesses are elevating their HR game with greytHR — book a free demo now.