Collect, manage and analyze employee vaccination data seamlessly.
As the rapid pace of vaccination around the country slowly helps life return to normal, there's just one question on every business leader's mind. How can organizations ensure a safe environment when work resumes?
The simple answer to this is vaccination. This, in turn, throws up a huge challenge to multi-location organizations with a large workforce.
How do organizations ensure vaccination compliance among employees and thereafter collect and manage employee vaccination data?
greytHR introduces Vaccination Data Drive, a data management system on the cloud that automates collection and analysis of employee vaccination data to aid business leaders make informed decisions on safe resumption of work in their organizations.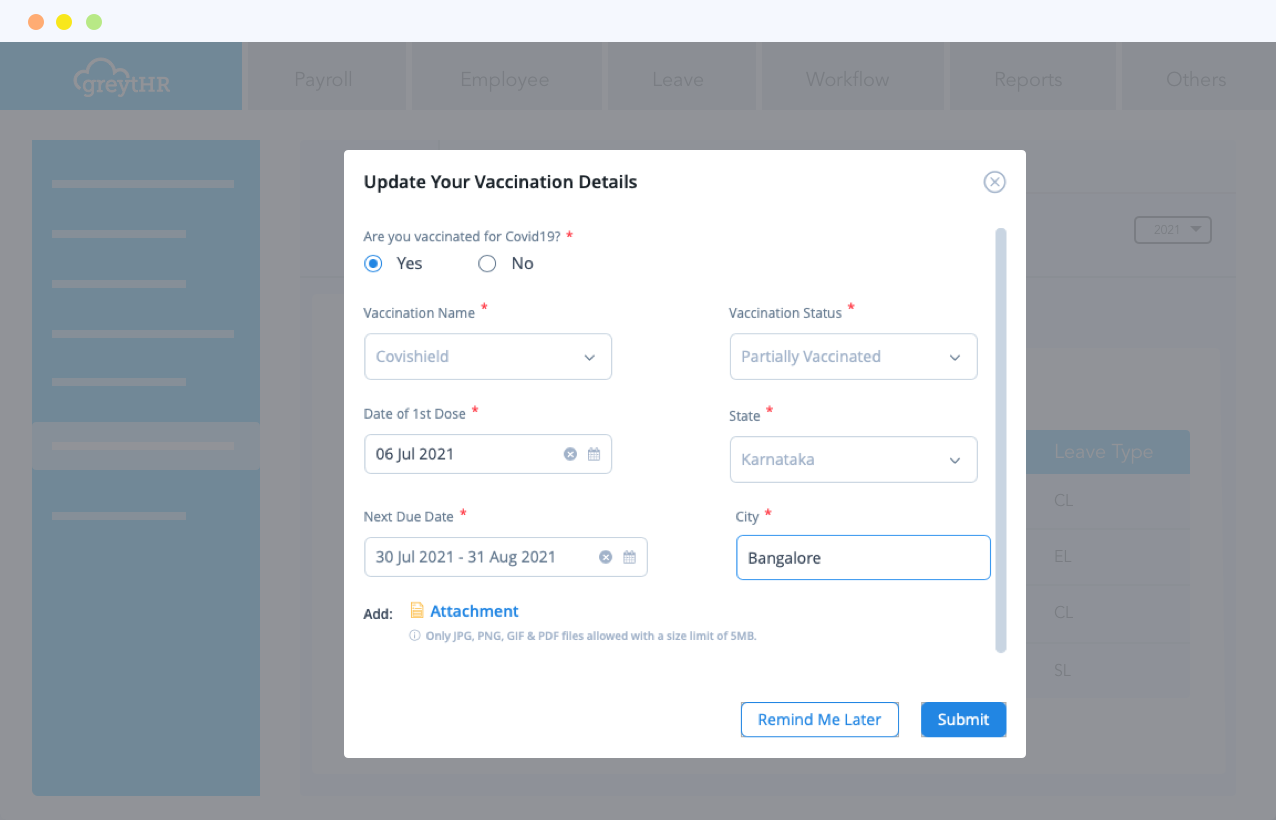 Let's take a look at the benefits of the Vaccination Data Drive (VDD).
1) Easy collection/submission of data
Irrespective of the number of employees in the organization and their locations across the country, the VDD allows easy data collection from every employee. It's even simpler from an employee's perspective. Everything from vaccination dates and the number of jabs taken to submission of vaccination certificates can be easily entered into the organization records through greytHR's Employee Self-Service (ESS) portal.
2) Helps leaders make informed decisions on workplace safety
The VDD gives business leaders a clear view of vaccination compliance across their organization, based on which decisions on reopening offices can be taken. It also helps them formulate policies that employees have to comply with before returning to the physical workplace. Deadlines can be set, and adherence monitored through greytHR.
3) Helps plan employee vaccination camps
Based on the vaccination data collected, HR can easily assess the number of employees to be vaccinated at their various offices. Based on this information, they can then plan and organize vaccination camps for employees associated with local hospitals.
4) Send reminders and alerts
For smooth data collection, reminders and alerts can be sent to employees through greytHR VDD. These could be emails or pop-ups to employees who have not uploaded their data. This saves HR time spent on the multiple follow-up conversations.
5) Simplifies adherence to government rules
Every state government will have rules for businesses to follow as they return to work. The VDD makes it easy for HR departments to monitor and ensure employee compliance with government guidelines. This is critical because failure to do so could result in offices being shut down and sealed by the authorities.
The Vaccination Data Drive is yet another example of greytHR's speed of innovation in response to fast-changing HR needs in organizations. This module is a free addition to the greytHR platform and a shot in the arm for all organizations as they prepare to return to the workplace.
Here is a quick demo video to see how it works