We are thrilled to bring to you, the future of salary payments – greytHR PayNow – the newly launched integration between greytHR and ICICI Bank, India's largest private sector bank. greytHR PayNow helps you make salary payouts directly from the greytHR app. What's more? It's highly secure (high-grade encryption and 2-factor authentication), and it eliminates the risk of data leaks.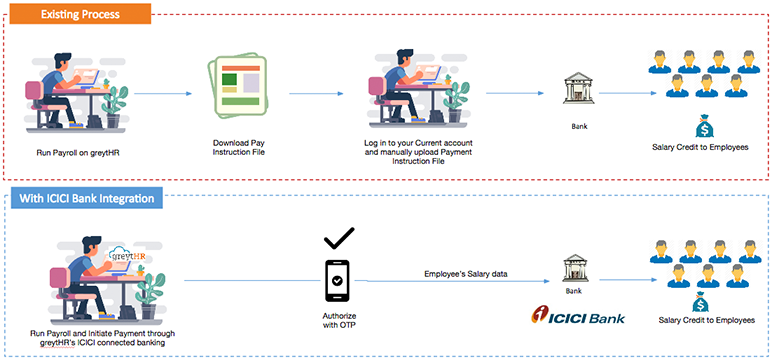 Convenient Salary Transfers
Every time you initiate salary payments, your payroll team runs the payroll for all your employees and downloads a payment instruction file. The payment file is then submitted to the bank – either digitally or physically. The bank verifies the information and finally, credits the salaries. 
Now imagine doing all of these in just a few clicks.
With greytHR PayNow, you can drastically reduce the time spent in generating pay files and credit the payments directly to your employees' salary accounts.

RELATED: Connected Banking, the future of Payroll
Data Confidentiality & Security
The two biggest challenges in salary transfers are data leakage and the possibility of data manipulation. With greytHR PayNow, the salary transfer is done from within the application to ensure there is no risk of data exposure.

The entire process is made secure with bank-grade encryption and 2-factor authentication. As an additional safeguard, you can also enable an authorization process from the bank portal.
Easy Reconciliation
Tracking and reconciling payout status is a huge challenge, especially if you are making multiple transactions every day. Going over the bank feeds to check the transaction status for each of your employees can be both time-consuming and tedious.
With greytHR and ICICI Bank integration, transaction status reconciliation is automated. This means you can instantly track your failed transactions & reinitiate the process accordingly.
Better Employee Branding
Apart from all the operational conveniences, this is yet another opportunity to deliver a superior employee experience with flawless salary transfers, without errors and delays.  
Want to see how 8000+ brands are fully automating their payroll?