You are all set for a great weekend trip home. You drew some cash at an ATM and downloaded an app to shop online during your journey. Thanks to e-commerce, self-service is now a convenience rather than an overhead.
Empower your employees with online HR services
With greytHR Employee Self Serve (ESS), you enjoy the same convenience of self-service. This cloud-based software enables your employees and managers to streamline their work and move to a better clime. With ESS, you reduce the administrative workload of HR and Payroll and increase the satisfaction of employees.


Benefits of Employee Portal
Consider how ESS from greytHR benefits your workforce:
Employees can:
View and download payslips and other payroll-related information at any time from a secure portal.
Manage leave and attendance information of self and team.
View bulletin boards, policies, and other communication from HR or the organization.
In addition to viewing the information, the employees can now do several tasks directly, and they can access the info 24*7 on the Cloud. This frees up the time of HR and Payroll Managers for other tasks. Increased transparency also leads to happier employees. The process automation tools of greytHR for leave, claims, and others also add to the benefits. Read on to find out.


Features of Employee Portal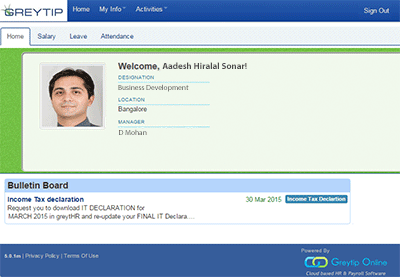 Employees can:
Submit their proof of investment.
Declare rent and investments for TDS.
Submit expense claims.
Update or request update of personal information.
Paperwork is minimized, and the time taken to complete these activities is reduced. This decreases the effort put in by both employees and the organization. The result is better time management by all stakeholders. Additionally:
Employees can:
Apply for Leave and Managers can review this online - anywhere, anytime
Help Desk requests and track the same.
Delegate approval rights to a peer during your leave of absence.
Stop receiving every request in your mailbox. Whether it is a request for Employment Proof letter for bank loan or issues with the lunch vendor, handle all of them with ease by switching to a Help Desk system to streamline incoming requests. Watch the video to know more.
greytHR Employee Self Serve ensures optimal use of resources and zero downtime through access to information and workflow automation of manual paper/email-based tasks. The icing is that you can always intervene as a manager or Admin of greytHR to close or control workflows such as leave grants or attendance regularization.
To learn more on how this can be implemented for you, check out our help documentation