greytHR launches Employee Confirmation Workflow

HR professionals and managers are known for their multitasking skills. But the tasks
of remembering and manually tracking employee confirmation dates and making
regular follow-ups could become a nightmare at times.
Automate and simplify your employee confirmation process today!
greytHR's new Employee Confirmation Workflow makes the entire process ‒ from tracking to initiation and confirmation/probation extension to feedback recording ‒ happen online.
The result? HR can take a task off their to-do list, managers can save tons of time, and employees can view their confirmation status in real-time.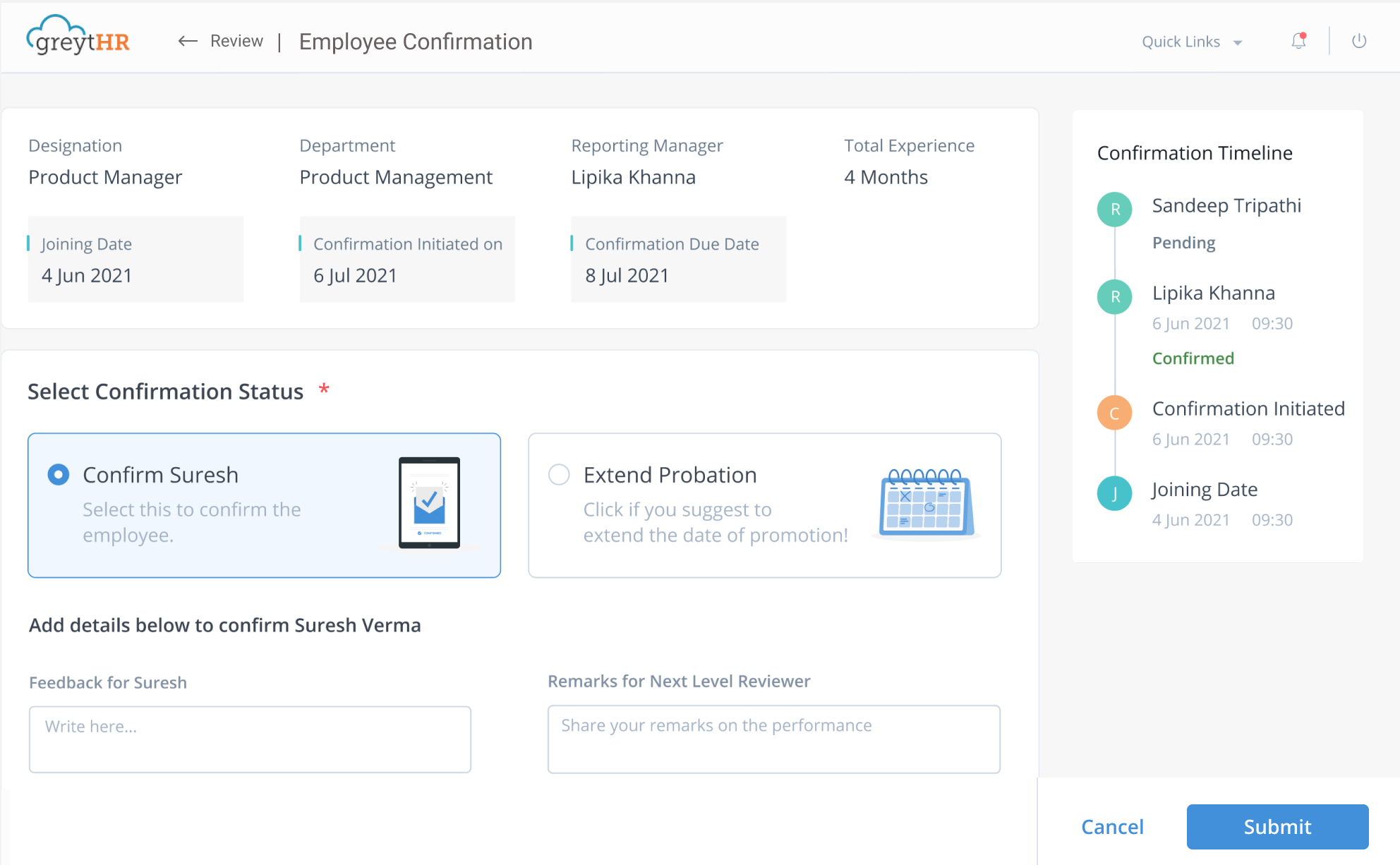 See what else the new workflow offers:
Auto-initiation of confirmation
Whenever an employee's probation-end date is around the corner, greytHR automatically initiates the confirmation process so that the managers and HR
need not manually track the same.
Automatic notification triggers
The concerned managers will receive email reminders and online notifications when the process is initiated. The employees can also check their confirmation status online, while the stakeholders can view the pending list of employees to be confirmed.
Speedy feedback capture
Managers can log in to the portal and easily provide feedback online, while HR can track the status of the employees' confirmation. There's also a provision to leave remarks for the next-level reviewer.
Option for probation extension
Each manager has the option to either confirm or extend the team members' probation period without any hassle. The manager also gets to see the employee's designation, experience, and confirmation due date on the same screen.
Configuration of multiple reviewers
The Employee Confirmation Workflow allows the admin to configure multiple reviewers to automate and expedite the process. The Confirmation Timeline shows the actions taken by the different reviewers before the admin takes over to complete the process.
Automated re-initiation of confirmation
If a manager wants an employee's probation period to be extended for a specific reason, greytHR automatically re-initiates the confirmation process based on the extended probation due date.
Join our webinar on 23 February 2022, Wednesday, to learn more.