3 Key Steps for Choosing a Payroll Outsourcing Partner

Put simply, the primary function of any payroll team is to assist the company in the timely and accurate payment of staff salaries. Easier said than done, the process is also replete with several mundane tasks dreaded by the payroll staff themselves.
The solution? Payroll outsourcing.
The challenge? Finding the right partner.
During our Parichay‒Ask the Expert session, Anurag Jain, Co-founder and Partner of ByTheBook Consulting LLP, proposed three broad steps to find an outsourced payroll service provider for your organisation.
Here's a quick summary:
1. Choosing the Tasks for Outsourcing
Payroll outsourcing doesn't mean handing over the keys to your kingdom! You can do it in a phased manner. Sometimes, your payroll staff might be keener to answer employee queries than just entering data. When you have a candid discussion with them, they are most likely to reveal the tasks they dislike. You could then contemplate outsourcing only those tasks.
A seasoned payroll partner should be able to process a lot of manual and time-consuming tasks efficiently and quickly. You can get started with small tasks initially and outsource more when you become more confident of the chosen partner.
2. Deciding the Partnership Type
Different companies choose different formats for outsourcing their payroll.
SaaS-based model: Powered by a customizable cloud payroll software, this model can help you reduce costs and improve scalability.
Site staffing: Enabling you to bolster your team strength with external payroll experts, the site staffing model allows you to either make up for absence or handle peak periods.
Payroll automation: In this case, a vendor can perform a payroll scan and automate, streamline and document your payroll processes.
Business process outsourcing: A popular model, BPO lets you access a full-fledged, offsite payroll team of experts that offers you long-term cost and compliance benefits.
3. Selecting the Go-To Partner
The success of your outsourcing strategy is closely connected with the quality and compatibility of your payroll partner. Therefore, it is crucial to compare different vendors based on their domain/vertical experience, market stature, service offerings, costing, IT infrastructure
and more.
Conclusion
The pandemic has undoubtedly tested the HR and Payroll functions across industries. As a result, organisations have been impelled to re-evaluate their game plans. This assessment has led to renewed attention for payroll outsourcing, one of the fastest-growing segments in HR outsourcing. Besides the above benefits, outsourcing creates more internal bandwidth for more strategic projects.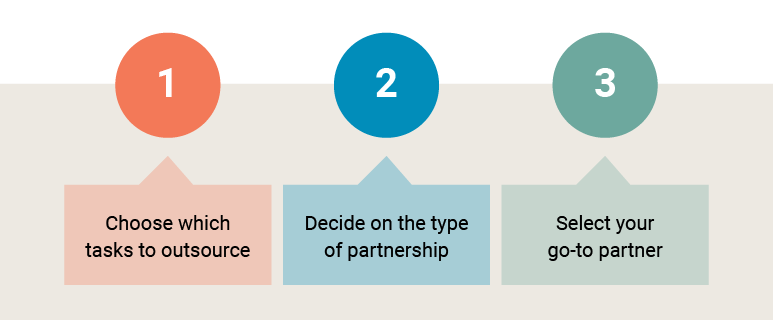 The past couple of years has proven that growing businesses cannot control everything. The new way of doing business is to repose trust in other people, even if it means stepping outside a comfort zone. But it's also true that every organisation needs to decide if outsourcing is the right approach for the long haul.
Eager to Hear it Directly from the Expert?