Discover the HR practices and trends that companies of all sizes can benefit from. 
The events of 2020 have created a paradigm shift in the way business works around the globe. HR's role has become more critical than ever, not only in employee management but also in setting standards for how businesses should operate in this new world. As companies work to stay profitable amidst the new work-from-home and social distancing norms, here are some innovative HR practices and trends that companies of all sizes can benefit from. 
Focusing on holistic health benefits
The fear and uncertainty surrounding COVID-19 have caused significant stress among employees as they worry about themselves and their loved ones. Apart from the conventional list of HR processes, health benefits, and paid time off, HR can develop programs that address all aspects of health and wellbeing, including psychological counselling and financial wellness. 
Supporting the transition to remote working
In the post-pandemic era, remote working is the new reality for the foreseeable future. HR plays a key role in helping employees adjust to working efficiently amidst the distractions of home and away from the conducive work atmosphere of an office space. This could mean innovative HR practices such as providing logistical assistance to set up a home office and accommodating requests to care for family members. 
Emphasizing work-life balance
Often, remote employees end up blurring the lines between their work and their personal lives and taking on work beyond regular hours. HR can take the lead in emphasizing a healthy work-life balance to prevent burnout. In this regard, steps can include a cut-off time for work communications, a policy of no work on weekends, and flexible workdays that focus on results delivered rather than hours clocked in. 
Improving diversity at the workplace
As the world becomes more complex and more connected, it is more important than ever to have diverse voices bringing in new perspectives. Best practices such as having a more diverse senior leadership and using AI to shortlist candidates based on skills only can go a long way in removing recruitment biases that creep in during the hiring cycle. 
Embracing millennial and Gen Z leadership
Agility and innovative decision-making are critical for businesses that wish to survive and thrive in the pandemic. This calls for leadership from millennials and Gen Z, who are tech-savvy, forward-thinking, and unafraid to take risks. HR should take active steps to provide leadership opportunities for its younger workforce to lead the organization into the future.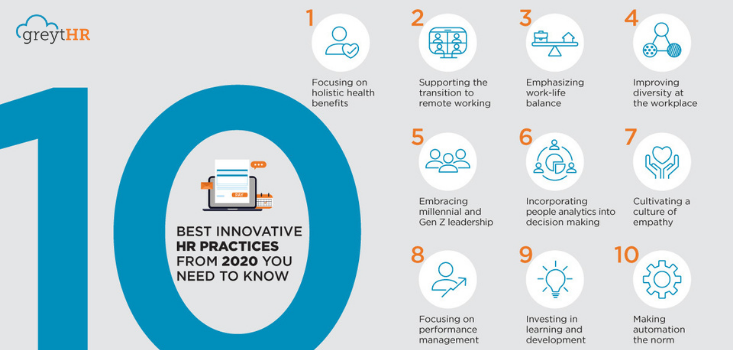 Incorporating people analytics into decision making
The judicious use of data can revolutionize business process efficiency, and HR is no exception. Investing in HR software makes it easy to pull up custom reports on employee performance over time and across departments, as well as insights on trends like attrition rate, promotions/transfers, and employee sentiment. This information can be used to make smarter decisions on hiring, training, and maintaining company culture. 
Cultivating a culture of empathy
The pandemic has brought home more closely than ever that life is uncertain. Amidst this, the business-as-usual culture is no longer appropriate. HR can take the lead in establishing a culture of empathy, where employees are made to feel valued and heard as people rather than mere contributors. 
Focusing on performance management
In order to encourage and reward talent and hard work, HR can collaborate with managers and employees to establish performance metrics that are in tune with company goals and employee interest areas. To optimize this approach, HR can invite employees to share the kinds of incentives they would like best and design a continuous feedback approach rather than the traditional annual appraisal system. 
Investing in learning and development
Employees should be given the same opportunities to learn and grow in this remote working situation as they would in person. Training modules, online diplomas and certificates, extra projects, and cross-departmental exposure can be incorporated into a virtual L&D strategy. Team managers should be roped in to promote these activities among their team members and mentor those who wish to gain additional skills. 
Making automation the norm
With the whole world moving to virtual interactions, automation has become a must for efficiency. HR can take the lead in choosing appropriate tools such as ESS portals and payroll management software to simplify tasks and save time and money. Automation will bring increased transparency and accountability into day-to-day operations, which is ideal for the entire business. It also allows employees more control over their functions.
As the world gets ready to embrace the new normal, HR can play a key role as the change leader for the organization. Keeping the human resources best practices checklist in mind can help HR design future-ready policies that benefit employees and stimulate business growth.