Here's how to pick the Employee Self Service portal that's best suited to your organization's needs.
Self-service is the order of the day. Employees expect to be in charge of their own attendance management, document updating, and payroll monitoring, and ESS (employee self-service) portals can allow them to do just that through a user-friendly interface. There are several ESS HR portal solutions to choose from, catering to different industries and company types. Here is how HR can choose the most appropriate ESS portal for its employees.
Verify that employees will actually use the portal
While self-service may sound attractive, many employees may resist introducing a new tool as an extra inconvenience. Conduct an internal survey to understand what your employees hope to get out of the ESS HR portal and how much time they are willing to spend on it. 
Check the features offered
In order to maximize the benefits of employee self-service, it is important to make sure that the portal combines as many useful features as possible. Some of the features common to most top-notch portals include leave requests, payroll history, information change requests, a knowledge library, training modules, and peer-to-peer messaging. Uploading details about new jobs or training certificates could also encourage employees to seek out those opportunities for growth on their own initiative.
Confirm that it is easy to install
An ESS HR portal should be compatible with your existing office hardware and systems. The less you need to spend on setup costs; the more open the IT team will be to work with it. Do your research on the portals available out there and choose the most cost-effective option for your company.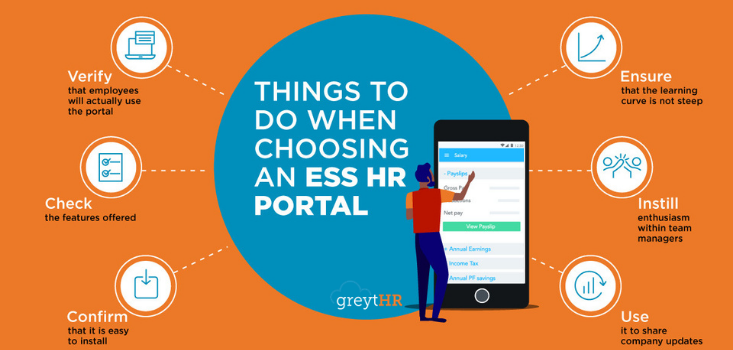 Ensure that the learning curve is not steep
The benefits of ESS get outweighed if the portal itself is difficult to navigate. Ensure that it has a simple interface with clearly labelled features and that it loads equally well across different browsers and internet speeds. Ideally, the portal should also have a mobile app version so that employees can access it on the go.
Instil enthusiasm within team managers
An ESS HR portal can potentially be used to learn more about employee sentiment concerning issues like turnover, compensation, and work culture. To make the most of this, HR should focus separately on educating managers about the tool and on promoting manager self-service options. 
Use it to share company updates
Apart from giving employees control over day-to-day functions, the other significant benefit of an ESS HR portal is the ability to share company news and updates instantly. Policy changes can be uploaded on the portal for employees to peruse at their leisure, and the direct messaging feature can be used to share queries and complaints. Company schedules of holidays, events, and other important dates can be updated publicly so that employees can confirm their presence through their login IDs. 
As automation becomes the norm across industries, a self-service portal is a natural choice to improve HR efficiency. With multiple options available, a company of any size can find the right ESS HR portal for itself and start reaping the benefits of employee self-service today.